Press Reviews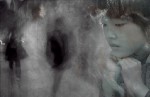 Beijing Impressions, Maryland Gazette
Samm Tyroler-Cooper lectured on her work as a Fulbright scholar studying female migrant laborers in China at the opening of her mother Barbara Tyroler's photography exhibition entitled "Beijing Impressions" at the Greenbelt Community Center.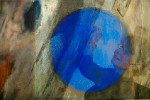 Collaborative Portraiture FRANK Gallery Herald Sun
"Collaboration is a generous act; two or more artists work together leaving their personal egos behind and create a new work of art that blends their ideas into a new depth. This collaboration was the brainchild of photographer and teacher Barbara Tyroler, who floated it to five of her colleagues whose work she deeply respects and who show regularly at Frank Gallery." Blue Greenberg, Durham Herald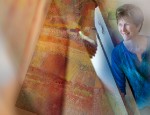 Herald Sun, Art of Collaboration
During a recent walk-through at Chapel Hill's Frank Gallery, photographer Barbara Tyroler talked about the importance of collaboration and the exchange of ideas. Both ideas are central to a new exhibit she is presenting at Frank Gallery, "Getting Layered: 6 Women Collaborate on Self-Portraiture." Chris Bellamy, Herald Sun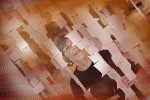 Chapel Hill Magazine Getting Layered
"These are women artists whose work is bold and creative – each established in their own fields. Each will present a self portrait constructed directly or conceptually from the photographic portrait collaboration," Tyroler told me over wine at the Carolina Coffee Shop, where our conversation hop-scotched back and forth between past and present. The artists are Peg Bachenheimer, Anita Wolfenden, Mirinda Kossoff, Luna Ray Lee and Katherine Armacost.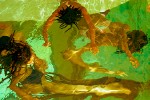 Rangefinder Magazine
"Tyroler's water intimacy portraits became part of her university teaching curriculum and grew into multi-generational community workshops where participants come with their parents, children and spouses, photographing each other while Tyroler photographs them. There is immediacy to these images. We feel the rhythmic lapping of the water and sense the dance of light through the medium." Rangefinder
Waterfront Home and Design
"The painterly, color-saturated surfaces of Barbara Tyroler's water portraits pulsate with the rare beauty of an underwater coral garden. Visually ambiguous and bold, her photographs are ongoing explorations of the abstract discovered from acquatic interaction among people in the water. They celebrate the expressive power, rhythm and dimension of primary color and graphic line." Judith Bell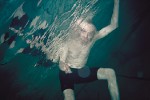 Rambler Magazine Water Intimacy
In producing portraiture with my family, water initially served as the set design. For my father, water was a healing environment for his medical condition, but ultimately we used the lens to produce beauty, to remember our shared experiences, rather than to document his pain and discomfort. For my daughter, this water portraiture extended the photographic explorations of the oceans, lakes, and pools of her youth, but it was more about passage and transition.